Final punch-list items were reviewed and addressed by the construction contractor LR Hein.  Classes began as scheduled on July 5, 2016 without many incidents.  All was well at 500 E. Davis for the opening day of classes.  This will be the final construction blog report for 500 E. Davis St.  Next "project" will be to completely shutdown 1840 Oak Avenue location and remove all items there.  If you have been following us on this blog, thank you for your attention, if you have not been following, you have a bit of reading to do.  Cheers.
June 30, 2016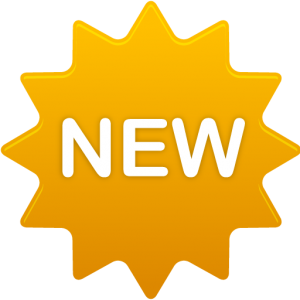 photos and video by Pawel Dubak and Sachin Patel
A ribbon cutting ceremony for 500 E. Davis was a smashing success.  Check out the video and photos.
<VIDEO Link>
June 28, 2016
TVs are in – let the learning/fun begin!  All classrooms are now complete!  Classes will begin Tuesday July 5, 2016.  The final punchlist items are being worked on.  Check out all the photos right here!
Week of June 12 – 20, 2016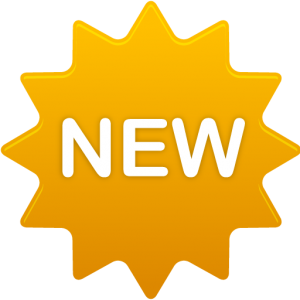 photos by Pawel Dubak & Sachin Patel
Audio and Video electronics are being installed this week and into next week.  Large 80″ & 90″ television screens are hung inside the classrooms for presentation use and more.  Ceiling speakers are also being installed for optimum sounds.
Internet and phone services have been installed last week and will continue into this week as the focus until our grand opening will be on classroom electronics, cleanup, and any outstanding items on the punchlists.
Oh yeah, let's not forget,  we will be evacuating 1840 Oak Avenue with all furniture, fixtures, networking, and personnel into our 500 E. Davis facility during this week as well in preparation for our June 30th ribbon cutting ceremony at 500 E. Davis location.  July 5th is still the opening day for OLLI classes.
Take a look at what is being done in these exclusive First Look photos.
Hey fellas, – don't drop it – Yikes!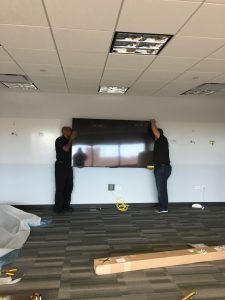 BEFORE & AFTER photos – Two televisions installed, two more to go – Looking good!

Ceiling Speakers are installed inside all classrooms.
June 11, 2016
HOT!! New photos brought to you by your I.T. and Facilities group during the weekend.
The window treatments have been installed inside the classrooms paving the way for the classroom electronics to be installed during the week of June 20 through 29th.
The elevator lobby looks quite different too with some color on the wall and clean carpeting.
And yes! we finally have a front door to call our own!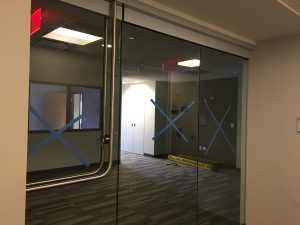 Classroom signage has also arrived and is being installed.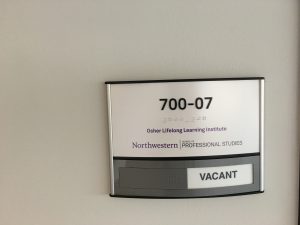 An honorable mention and most notably, we see the refrigerator is still lurking in the hallways.  The bar area is shaping up.  Ladies and gentlemen, The sink is IN…let the fun BEGIN!
June 3, 2016
Considerable progress has been made over the last week or so.  The projection is still on target for a July 5th opening.  Check out the latest photos as of 3pm today (6/3/2016).  Some
Our pantry area is shaping up too.  The microwave and fridge is awaiting installation.  Get in line folks.. the fun is just getting started in this bar…err…pantry area.
One of the classrooms nearing completion; audio visual equpment will be installed the week of Jun 20, 2016 along with tables and chairs.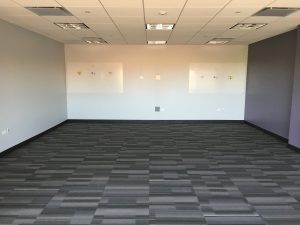 May 25, 2016
The latest photos are published below.  More has been done, but as you can see, there are still a number of items unfinished and undelivered yet as the month comes to a close, more deliveries are expected to arrive in June.  Items to be delivered on location : Window Shades, Electronics (TVs, network equipment), Dividing Wall Panels for the large classroom, and the Pantry Appliances.  We are also expecting to have phone and internet services installed by mid June.  Stay tuned for more details.
In the meantime, the photos below are a first look at the partial installs of cupboards for our pantry area.  Countertops and additional cupboards are lining up to be installed.
Notice that we do have ceiling tiles and the lighting installed.  Now we see the light!
May 17, 2016
Fire suppression systems were installed prior to the full installation of the ceiling grid tiles.  Some "can" lighting were installed as well and yes, the walls have more color too.  Stay tuned for more information as it becomes available.  (click on each photo to enlarge on your screen)
The electrical has been roughed int the walls and some power outlets and switches were installed.  Here is the pantry area with some painted walls, water pipes, and space for our fridge and future countertops.
May 6, 2016
Considerable progress has been made as the construction build-out forges onward.  We are still on track to open in July 2016.  Ceiling tiles and grids are being installed along with some lighting.
Classrooms, offices and hallway space are beginning to take form as well.  Ladies and Gentlemen, yes, your eyes do not deceive you – purple paint has been painted on the walls!  Far out!  Go Wildcats!
These two photos are the dividing wall track installed on the ceiling in the large divisible classroom that will hold dividing panels to separate the classroom into two classrooms.  Panels will be arriving in mid-June and will hang from this track.
Stay tuned for more information as it becomes available.
April 29, 2016
About 95% of the drywall is complete.  The ceiling grid hangers are underway with the expectation that the ceiling grid will be hung next week.  The remaining drywalling, taping, and sanding is nearing completion so perhaps next week all of the drywall will be done.  As you can see from the photos, the progress is swift.  The first photo is the reception area once you enter into the Osher Lifelong Learning Institute space immediately to the right of the elevators.  The remaining photos are the bare hallways and classrooms.   More updates to come as they become available.
These two photos are of the divisible classroom.  Notice that on the RIGHT photo on the ceiling (gray color) is the track to guide the dividing walls.  It is this room that can either be separated into two classrooms or used as one large room once completed.
The photo below is where our pantry/kitchen will be with a countertop, fridge, and microwave.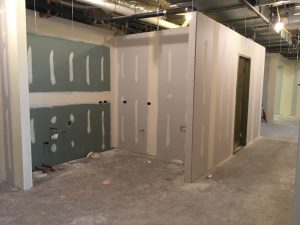 April 22, 2016
Drywall is going up and WOW does this place look different.  Once the approved PERMIT was posted, little time has been wasted.  Here are the most recent photos- as you can see, plumbing was on the list for our pantry/kitchen area as well as the voice and data cabling to begin building and connecting.  We are tentatively projecting a completion date for this buildout to be open for our July 2016 classes.  More updates as they become available.  Check these progress photos below.
Below are the voice and data cabling that will "power" the digital signages, computers, and wifi, along with the television screens that will be in the classrooms. (white cabling)
The plumbing for the pantry/kitchen area has also been installed! (copper piping below for water).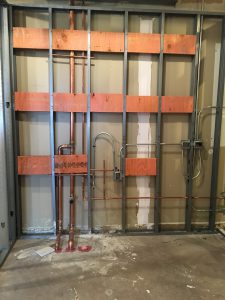 April 15, 2016
The build PERMIT for construction has been approved and received! Here is a photo of the build PERMIT.  This will be posted in the elevator lobby.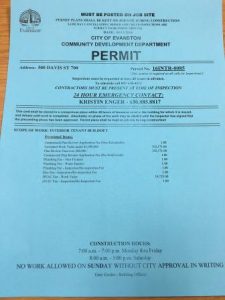 The PERMIT is hung immediately in the elevator lobby as you get off the elevator.  (See the BLUE signs on the wall? This shows we are now "legit" per Evanston city code and ready to build!)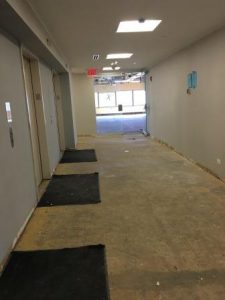 Majority of the raw materials (drywall boards, doors, ceiling tiles) have arrived onsite to be used to build our space.  Since we did not have the build PERMIT, these were sitting here pending PERMIT approval.  Now we can ROCK-n-ROLL!! and begin the build-out beginning Saturday (4/16/2016)….CHARGE!!!
April 8, 2016
Our latest OAC (Owner, Architect, Contractor) meetings yielded some exciting photos with the space.  Slowly but surely, the framing of the walls are going up.  (See the photos below.)  We are still awaiting for the completion of the Building Permit to be processed by the city of Evanston and should expect to hear more updates regarding our permit by next week.  For now, the drywall is expected to arrive Saturday (4/9) while the ceiling tiles will arrive onsite on Monday (4/11).  None of these materials may be installed while the Building Permit is still under review.
Yes, the place doesn't look like much now; however, this is just the beginning…Stay tuned.
March 28, 2016
The Construction company who will head up our 500 E. Davis Street project is:
LR Hein Construction : They will be the general contractor with sub contracting to the trades per building owner; More information about LR Hein may be found on their website – www.lrhein.com
The first kickoff meeting to discuss materials and meet and greet the team was on Friday March 25, 2016 on the 8th floor of 500 E. Davis Street.  We had to pick out carpet and wall colors, fabric color of the dividing walls, window treatments and more.   More information will become available as details emerge.   For now, here were some samples of the swatches.  To enlarge these photos, click onto the images.
To enlarge these photos, click onto the images.
January 6, 2016 – New plans for 500 E. Davis Street.

New plans for our Osher Lifelong Learning Institute (OLLI) in Evanston are underway!  The new location for OLLI in Evanston will be at 500 E. Davis St.  We are expecting to have the Construction Documents completed and ready to review soon – once these documents are printed out, our General Contractors will be selected and construction will begin.
The new space will be located on the 7th floor of 500 E. Davis and will be over 5,200 sq ft.  There will be underground parking, ample restaurants in the area, and one block south of 405 Church street (SPS Mansion).   Inside, there will be four meeting rooms, a lounge area, reception area, a pantry/kitchen, staff offices, and a collapsible conference room(s).
There is nothing in the space right now, as this is a build-out.  See the image below to check out what is really there now.  Kind of boring….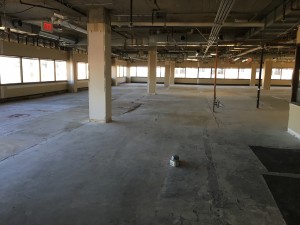 When completed, we anticipate the space to look something like this.  <Click onto the image below to have an expanded view of our new space.>