I.T. has completed the software upgrades to 95% of the shared server drives.  There should not have been any interruptions as this upgrade occurred; unless you ignored all the email messages about the maintenance cycles.  Maintenance cycles will continue on Fridays weekly to finalize the work and as September classes begin, these maintenance cycles will be bi-monthly.
Lastly, we all are eagerly awaiting the release and announcement of Apple's new iPhone 7.  September 7, 2016 Wednesday is the expected announcement and live streams.  We hope to be able to test one of these devices when these are shipped (scheduled for later in September or early October 2016).
Regularly scheduled maintenance is happening throughout the summer months and into September 2016 before the start of classes.  The I.T. team has busily been upgrading the shared server infrastructure with a consulting company to maximize the capabilities of server services.  Consolidation of non-essential server hardware and software along with software upgrades is a priority for this coming fiscal year.
June 16, 2016
Last week there were two (2) major I.T. and audio-visual conferences happening.  The first was called UBTech that explored exciting educational technologies happening within Higher Ed institutions and the second was called Infocomm that announced new audio and new video technologies within the industry.  We took some new ideas back and will be brainstorming these new and amazing tech.
One tech gadget was from Crestron in the world of digital signage.  The existing digital signage technologies that we have in Wieboldt Hall hallways may be extended to use with classroom signage.  Not only will this electronic sign display classroom schedules outside the classroom doors, but will also show if the room is occupied or vacant, allow for remote and automatic updates via a web interface, and may allow for walk-up bookings.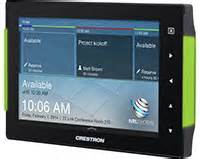 May 10, 2016
Similar to last year, SPS-IT and Facilities will be doing a LIVE video stream from the beautiful Auditorium Theatre for our 2016 SPS Convocation for all graduating Students and Guests!  The ceremony will take place at 1pm Central time.  Here is an exciting preview of the stage of the Auditorium Theatre venue.  Of course, being there live is second to none; however, if you are not able to participate, a live video stream will be available online.  URL to be announced for this live stream soon, for now, here is the stage view – wow, impressive.  (click onto the image to enlarge on your screen)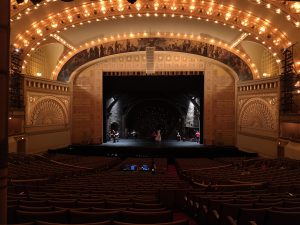 April 1, 2016
As you may or may not know, NU has available a home version of Microsoft Office 2016 software for you to buy by either downloading or selecting a CD for you to use at home.  This is the HOME USE PROGRAM designed for Faculty and Staff to use by loggin with your NU NETID.  Students have a different version of this program available to them.  The URL is : http://www.it.northwestern.edu/software/microsoft/secure/home-use.html
But wait there's more, Microsoft Windows 7, 8.1, & 10 along with Microsoft Project and Visio 2016 as well as the Mac version of Office 2016 is also available.  While this blog only mentions Microsoft products, there are other software that is available too, so check out the URL by copying and pasting it above in your browser and order away!
March 14, 2016
Daylight Saving Time is in full swing today Monday March 14, 2016.  Your computer's clock time should have automatically adjusted for this change.  To see if the computer did the time adjustment, go to the system tray (lower right corner of your screen) and check out the time.  If the system tray clock is incorrect, please contact us (via phone @ x3-3333 OR via email  sps-it@northwestern.edu OR via a trouble-ticket helpdesk.sps.northwestern.edu) and we can dispatch someone to check out your computer.
February 29, 2016
SPS-IT has completed our digital signage upgrades and have also added QR codes into the mix for our on-campus students.  These QR codes will assist all those who are here with classroom assignments both in the morning and evenings as way finders through our hallowed hallways.  There is also signage posted onto the classroom doors.  This is but one B.Y.O.D. (bring-your-own-device) initiatives within SPS-IT and Facilities area as we plan and implement more in the coming fiscal year.
Secondly, if you have not seen our digital signs, check them out, so don't be shy, don't walk by, the graphics are quite appealing to the eye and pops at you.
January 31, 2016
As you may or may not know, SPS has an adjusted model of service support for our faculty, students, and staff at the help service desk.  Because of the explosive growth of online learning here at SPS, it was important to be available to our customers more than than normal business hours.
We are open SEVEN (7) days from Monday through Sunday from 8am through 12midnight Central Time to service you. There are three methods to reach us:
by Phone : 312-503-3333
by Email : sps-it@northwestern.edu
by Trouble Ticket : helpdesk.sps.northwestern.edu/
November 10, 2015 – DELL v. HP

Dell's purchase of EMC corporation is the big news along with Hewlett Packard's (HP) split of their Printer/PC division from their Server/Storage/Professional Services divisions.  A major turning point for HP as their profitable Printer division will be standing along from other products within HP.  Only time will tell if this split will bear fruit for HP.  As for Dell's purchase, this gives Dell the ability to now compete in the "Cloud" sphere.  Cloud computing is a reality and no longer considered a fad.  EMC's major component is storage and as Dell user's know (such as us), we can never have too little or too much storage space (closet or data files)!
Interestingly enough, for those who noticed, SPS will continue to be a DELL shop as the majority of our desktop computers and remaining servers within SPS are DELL.  The preferred majority of printers is HP brand and a portion of our cloud storage is HP with the other portion DELL.  Time will tell which vendor wins out.
September 30, 2015 – BIG DATA Analytics initiative underway
Over the next few months, SPS-IT will be building several database storage servers for our PREDICTIVE ANALYTICS program to use and incorporate within these courses.  Languages such as "R", "Python", MongoDB, PostgreSQL are among a few that students and faculty alike can use as a sandbox to play in.  The completion of these builds will be in multiple phases so stay tuned for further details.
August 31, 2015 – Microsoft Corporation news and SPS
Yep, Microsoft Corporation has quietly rolled out Windows 10 with little fanfare. As you may or may not know, the geniuses at Microsoft will fuse Windows 8 technology with Windows 7 technology to bring us Windows 10!  Most significant is that Windows 10 will have a START button again – unlike Windows 8, there was no place for the beloved START button.
Other Microsoft News involves the Office productivity suite Office 2016.   September 22, 2015 is the "official" launch of Office 2016.   Why "official" is in quotes is because for those who have volume licensing with Microsoft such as Northwestern does, our official date to begin download and loading is October 1, 2015.  Stay tuned for more info on our move.  Official Microsoft support for Office 2010 will end October 13, 2015 as SPS-IT will load your computers with Office 2013.  Again, we are testing compatibility with Office 2016 before we launch or install it on your office computers.
July 16, 2015 –  Finally! -the encore presentation of the SPS Convocation Ceremony is now ONLINE!

Check out the encore presentation of our SPS Convocation at the historic Chicago Theater.  You can see it now in its entirety on YouTube or on our SPS site.  Here is the link that is on our SPS site:
http://sps.northwestern.edu/resources/student-services/convocation.php#video
OR on YouTube
June 15, 2015 – Windows 10
As we've heard in the media and perhaps from the Web Buzz, that Microsoft will be officially launching their coveted next Windows Operating System (OS) as the successor to Windows 8 – it is called …… drum roll please …… Windows 10!
Why is it not Windows NINE you ask?  Well, good question.  Here is one of many articles related to this official launch.
http://www.theverge.com/2014/9/30/6868695/microsoft-windows-10-announced-official
http://www.microsoft.com/en-US/windows/features?SEMID=1&WT.srch=1&ocid=win10-61launch_SEM_BNG_MSBranded_DESIRE_en-US_windows%2010&wt.mc_id=win10-61launch_SEM_BNG_MSBranded_DESIRE_en-US_windows%2010
(click onto either of these two links above OR simply copy this URL into your browser for more info on the Microsoft Windows 10 OS and launch.)
SPS will NOT be upgrading our computers to Windows 10….just yet.  While the official date of Windows 10 is July 29, 2015, we are testing and experimenting with this OS to see if there will be compatibility issues with our Enterprise Systems and any applications that SPS uses.  So in the meantime, if you use a PC desktop, we will continue to use Windows 7 until further notice.
April 20, 2015 – BIG DATA "warehousing" is HERE!
MongoDB and PostgreSQL databases are now LIVE on the newly deployed BIG DATA warehouse.  Our Master's in Predictive Analytics program will be the first users of this data where faculty and students may access live BIG DATA to do research, sandbox, and run searches within the database sets.  With over one year of planning and many meetings, the reality of having access to BIG DATA has finally come to life.
January 7, 2015 – Infrastructure update
Plans are moving ahead with what we call a Hadoop (pronounced "HA – DOOP") infrastructure to support our Predictive Analytics; Information Systems; Business Analytics and possibly our Informatics programs.  This new infrastructure will allow for faculty and students to gain access to "big data" and perform some sandbox data processing in a more efficient and faster manner.  The goal of this technology is to process huge amounts of data across inexpensive old servers without limits.
In other words, we are reusing the old servers taken out of service because we have gone to the way of cloud computing (from an earlier blog) and combined these servers together (called clustering) and used them for a new purpose – namely Hadoop.   We are not buying new servers and at the same time, we are reusing the old servers….So how's that for recycling hardware.
To put this into use case perspectives; Twitter used big-data to collect the mounds of data processed in its social media sphere. (Singh, 2013) The LAPD used big-data to develop crime prediction techniques from the collected data while the Durham police used big-data to investigate and possibly stop insurance fraud.  (van Rijmenam, 2014)  Financial institutions used big-data to examine the customer experience and assess risk. (Nemschoff, 2014)
Although we are not in these industries, we do have students and faculty from these industries who may benefit from the use of this Hadoop technology within SPS.  By the way, once the infrastructure implementation is complete, SPS will be the only School within Northwestern to have this game changing advantage for our students to use.
References:
Singh, A. (2013) Hadoop real life use case & mapreduce details. Retrieved from http://www.slideshare.net/AnjuSingh16/hadoop-real-life-use-case-mapreducehadoop-reallifecase
van Rijmenam, M. (2014, April 23). The Los Angeles police department predicts and fights crime with big data.  Retrieved from http://smartdatacollective.com/bigdatastartups/196641/los-angeles-police-department-predicts-and-fights-crime-big-data
Nemschoff, M. (2014, July 20). Banking on hadoop: 7 use cases for hadoop in finance. Retrieved from http://smartdatacollective.com/michelenemschoff/212561/banking-hadoop-7-use-cases-hadoop-finance
November 25, 2014 – Extended Helpdesk Hours Update and More….
Good News!  There is now an executed contract between Northwestern University School of Professional Studies and Acxiom Help Services to provide extended helpdesk phone coverage to our Faculty and Students after hours!  Calls will be answered between Monday through Sunday (Seven Days a week) from 8am through Midnight (Central Time Zone).   We are anticipating that calls will begin routing into Acxiom in the month of December as Spring Quarter Exams begin.   So you are aware, SPS is the First and Only School within Northwestern University to have this type of expanded service.
SPS-IT have continued our transition and consolidation of Servers (that you may know as our shared-drives) into cloud-based technologies.   By the end of December 2014, SPS will be fully "cloudified" – meaning that there will not be any more need to purchase server hardware equipment to run our shared-drives (i.e. H:; K:; or X: drives) for the foreseeable future.  (This is about a $20K USD cost savings annually on server hardware.)   Expect no delays nor interruptions as a project that took two years of planning and implementation is now coming to completion – with some equipment still powered-on at our 1801 Maple server room, once these are off, our migration into the cloud will be complete.   More importantly, our "cloud-ification" efforts makes way for the demolition on the 8th floor of Wieboldt Hall (where one of two server rooms were) in favor of much needed office workspaces.   For 1801 Maple server room, that room will be decommissioned and equipment dismantled.    Kudos and Stars to the SPS team and all who made this project and others happen!
Below is a picture of the consolidated server hardware infrastructure (servers from 339 E. Chicago and 1801 Maple) inside the NUIT Data Center in Evanston – while there are many racks pictured, only a portion of the racks are our shared-drives.  Other servers inside these racks are part of other NU systems.  (BELOW)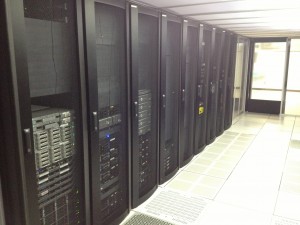 November 5, 2014 – Extended Helpdesk Telephone hours Coming Soon!
Plans are progressing for an extended Helpdesk Telephone hours for our Faculty and Students.  The new extended hours will be:
Monday through Sunday beginning at 8am through midnight Central Time. (Seven Days a week) 
Contract negotiations are still pending between our Northwestern University Office of General Counsel and our new partners Acxiom.  (To learn more about our partnership with Acxiom, here is the link: http://www.acxiomit.com/services/data-center/service-desk/ ).
October 6, 2014- Information Technology Updates
Dear SCS Community,
There are some interesting new technological developments and recaps to share within the exciting world of Information Technology (IT).
Over the last year (FY14), The School of Professional Studies Information Technologies (SPS-IT) and Northwestern University Center for Public Safety Information Technologies (NUCPS-IT) planned a server infrastructure relocation and consolidation. As of today, 95% of our SPS/NUCPS servers are leveraging the use of cloud technologies and relocated from the Wieboldt Hall Chicago building into the Northwestern University (NU) Evanston data center. The remaining 5% of SPS/NUCPS servers will be migrated into the NU data center by end of this 2014 calendar year. Aside from having improved physical and virtual security, the realized benefit of the vacated server room space from Wieboldt Hall, will be renovated in FY15 for additional office spaces.
Smartphone devices and social media were a large part of the technological industry shift to a B.Y.O.D. (bring-your-own-device) and the consumerization of IT; plans included in FY14 were to develop a user friendly experience through useful web interfaces and customer centric service points. Services such as student wireless printing, streaming online videos (i.e. Streaming convocation, MediaSite video recordings), and remote desktop support has been integrated into the infrastructure and will continue to evolve into FY15.
The availability of MS Office Professional Plus 2013 products, for PCs, which included the productivity suite of Word, Excel, PowerPoint, Outlook, and more for home personal use, was available through the NUIT website under the software tab. The SPS-IT recommendation was not to officially load university owned PC desktops or laptops with MS Office 2013 because of the limited benefits MS Office 2013 has to offer was not significant enough to warrant a disruption to the community for the upgrade. However, if the business need is to have Office 2013 installed, after approval from an immediate supervisor is given, please feel free to contact someone from I.T. to perform the upgrade. The Mac versions (named Office 2014) are not available yet.
In FY14, SPS-IT helpdesk support had more than 5560+ technical related requests received through phone calls, emails, or the ticketing system (HESK). (3185 phone calls, 1698 emails, 678 tickets). The current hours of SPS-IT operations are Monday through Thursday from 8a-8p with Friday and Saturday from 8a-4p Central Time by calling the helpline, emailing, or opening a trouble ticket (312-503-3333, SPS-IT@northwestern.edu, or http://helpdesk.scs.northwestern.edu/) respectively. Requests received peaked between the hours of 10am to 2pm Central Time on the weekdays; however, requests for help were received around the clock as calls, emails, and tickets began as early as 5a and continued well into the later midnight hours (Central Time) throughout the week. There are plans to expand help desk support coverage beyond the 8pm Central Time hour. More details on helpdesk expansion will be announced as more information becomes available in FY15.
As the technological innovation wheel continues to turn, these improvements were but a sliver of what happened and what will continue to happen into FY15, as the goal is to provide a superior customer service experience for all who may contact the SPS-IT helpdesk. In addition, a focused eye will be on the individual consumer as that will be paramount on the list as we move forward through FY15 and beyond.